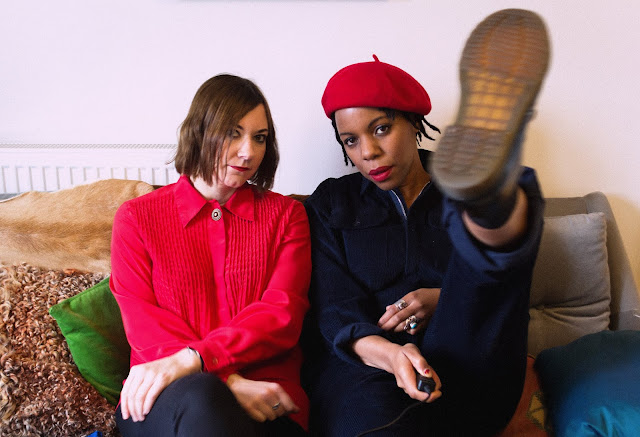 Formé en 2015, le duo
Sink Ya Teeth
s'apprête à publier un premier
album
hautement jubilatoire où la basse règne et qui nous évoque pêle-mêle
ESG
,
Moloko
ou
Gramme
.
Aux commandes du bolide, deux jeunes femmes (Gemma et Maria) originaires de Norwich, une ville dont on n'entend pas souvent parler pour sa scène musicale.
Curiosité oblige, on leur a posé quelques questions et elles nous ont en retour gâté avec en prime l'avant-première de leur titre « Petrol Blue » !
GBHM: Hey sink Ya Teeth! Could you tell us the story of how you guys met and decided to form this duo ?
Gemma: We've both lived in Norwich all our lives, but it wasn't until 2015 we were introduced by a mutual friend who was in Maria's band at the time, and he recommended I join on guitar. We only did 3 or 4 gigs together as that band when the bassist left to go travelling, so it came to a natural end. Maria and I then decided to carry on together as a duo and do something a little more dancey.
GBHM: This is your first album, how did you proceed from writing to recording ?
Gemma: Our songs are pretty much recorded and written at the same time ! We'll both work on the bones of a song separately on Logic Pro from our living rooms and send the idea to each other for the other person to add to. So for example Maria may send me almost a fully formed song which I'd then add bass and maybe some synth to. Or I'll send Maria a track of drums and bass and she'll add some little touches on percussion or synth and a vocal line (Maria writes all the vocals and lyrics). So we have slightly different musical inputs for each song. We'll then try and work out how to play it live, so it's a bit of a back to front process than we'd been use to in previous bands, where songs would be written by jamming together first and recorded later.
GBHM: I know you're from Norwich, tell us more about the musical scene there ?
Maria: Norwich is in this part of England where there's no through-road to another part of the country, so it's quite isolated in that respect. I think that's helped to create some interesting bands and music. A few years ago the scene was really thriving but things seem to have quietened down a bit.
There's still some people doing some really great stuff here though, like
Birds Of Hell
, who's totally amazing,
Graceland
and
Peach Club
. And
Norwich Arts Centre
is like a creative hub and the best venue in the country! They do a lot to support local artists of all kinds, and they put on some pretty special gigs too.
GBHM: We have the privilege to do an exclusive release on your track called « Petrol Blue ». What's the song about ?
Maria: Haha! I was reading Johnny Marr's autobiography and he was banging on about his favourite colour being Petrol Blue, so I took those words as a starting point for the song. It's not actually about Johnny Marr or about the colour blue for that matter! I guess its about insecurity in friendship and questioning if someone will be there for you through thick and thin.
TRADUCTION
GBHM: Salut les Sink Ya Teeth, vous pouvez nous raconter comment vous vous êtes rencontrées et avez décidé de monter un duo ?
Gemma: Nous avons toutes les deux toujours vécu à Norwich mais c'est en 2015 que nous nous sommes rencontrées grâce à un ami commun, qui était à l'époque dans le groupe de Maria et a suggéré que je les rejoigne comme guitariste. Nous avons fait 3 ou 4 concerts ensemble mais le groupe a fini par se séparer naturellement quand le bassiste est parti voyager. Maria et moi avons alors décidé de poursuivre toutes les deux pour faire quelque chose d'un peu plus dansant.
GBHM: C'est votre premier album, comment s'est déroulé le process depuis l'écriture à l'enregistrement ?
Gemma: Nous écrivons et enregistrons nos chansons pratiquement en même temps ! Nous travaillons sur la structure de la chanson sur Logic Pro chacune de notre côté, depuis notre canapé, et nous nous envoyons nos idées respectives. Par exemple, Maria va m'envoyer une chanson presque finalisée et je vais ajouter de la basse et du synthé. Ou alors, je vais envoyer à Maria un track de drum and bass et elle va ajouter par-dessus des touches de percussion et une ligne vocale. Donc les inputs sont assez différents selon les chansons. Ensuite, nous essayons de réfléchir à la façon de la jouer en live donc le process est un peu aller/retour, comme ce que nous faisions quand nous étions dans des groupes et que nous improvisions tous ensemble d'abord puis enregistrions ensuite.
GBHM: Vous venez de Norwich, elle ressemble à quoi la scène musicale là-bas ?
Maria: Norwich est dans une région assez isolée du reste de l'Angleterre. Je pense que cela a contribué à l'émergence de groupes et d'une musique assez intéressante. Il y a quelques années, la scène musicale était vraiment florissante mais j'ai l'impression que cette effervescence s'est un peu calmée depuis. Certaines personnes font malgré tout encore des choses vraiment bien comme Birds Of Hell, qui sont absolument géniaux, ou Graceland et Peach Club. Le centre culturel de Norwich est une espèce d'hub créatif et une aubaine pour la ville ! Ils s'investissent beaucoup pour soutenir des artistes locaux de tout genre et organisent des concerts assez originaux.
GBHM: On a la chance de proposer en exclu votre titre « Petrol Blue », de quoi parle-t-il ?
Maria: Haha! Je lisais l'autobiographie de Johnny Marr qui répétait sans cesse que sa couleur préférée était le « bleu pétrole », donc j'ai pris ces mots comme point de départ. En réalité, la chanson n'est ni sur Johnny Marr ni sur le bleu pétrole mais parle plutôt de la solidité d'une amitié et de la question de savoir si une personne sera là pour toi contre vents et marées.
ELENA ET THOMAS