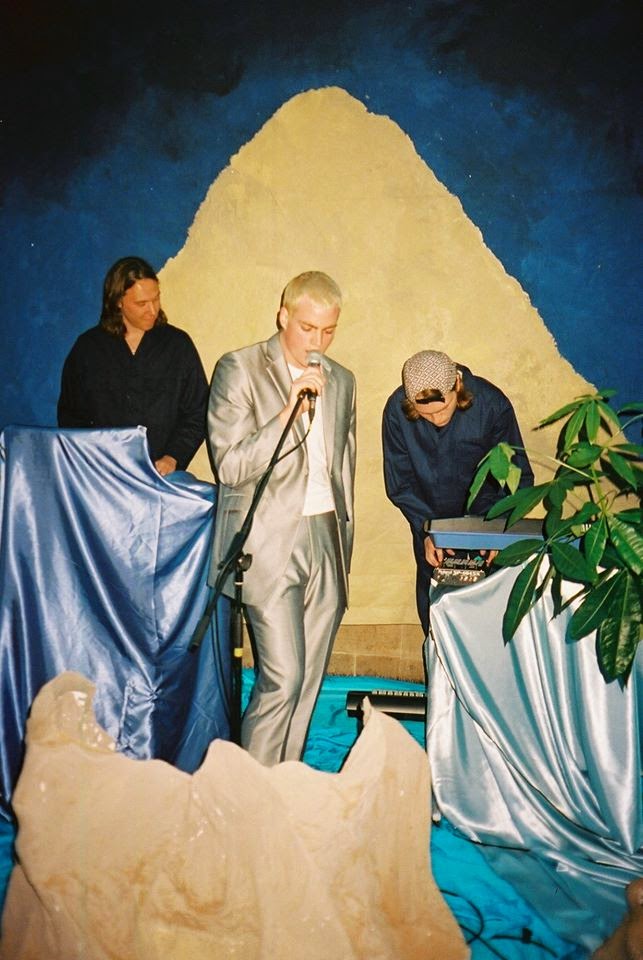 Manchester ça vous évoque
quoi ?
Alors
oui évidemment 2 équipes qui se tirent la bourre en premier league, mais encore
?
Oasis,
The Chemical Brothers, The Hacienda !
Bref,
une ville historiquement fleuron en matière de création musicale.
Ménage à Trois ne dérogent pas à la règle.
Leur
nom facétieusement provocant annonce la couleur d'une musique ultra sexy. Avec « The Bogans of Life », le trio nous offre la bande-son chaloupée de longues
nuits d'été.
Programmés
le 26 juillet prochain à la Villa Noailles dans le cadre d'un concert privé du
formidable MIDI Festival , la maxime « ce qui tombe sous le sens rebondit à
Hyères » n'a jamais autant été d'actualité (si tu n'as pas compris ce jeu de
mot, merci de réviser tes classiques littéraires).
Une interview
ensoleillée et pleine de british sense of humour, on aime !
GBHM : Hi Ménage à Trois, could you please introduce yourselves ?

Who are you and how did you meet ?
M.A T. : Ménage à Trois are Jonathan Flanders, Craig Langton and Joseph Manning.
We met when we were around 18/19 at the beach.
GBHM :
So, you're from Manchester, home of
The Smiths
,
Joy Division
, Happy Mondays and The
Stone Roses among other great bands. And you did a wonderful cover of the Bee
Gees' "Islands In The Stream". In which way are you inspired by the music scene
of your home town ?
M.A T.
:
The manchester band we are most inspired by is The Durutti Column. We
see him as the only music scene of our hometown, Earth.
GBHM : There are several samples (Marvin Gaye for instance) in "The Bogans of
Life" and it finally sounds pretty unique. So what are your musical
influences and how would you define your music?
M.A T.
:
For « The Bogans of Life » we were
heavily inspired by S.Maharba's use of samples, although he takes it to level
we can only dream of. The track « I See Water » is a sample off of a
Rascals record that Joe bought in New York for a dollar. He bought it just
because it had a Gauguin painting on the cover.
The Marvin Gaye/Diana Ross
sample from « Naked » is from one of Craig's parents favourite songs, « You Are
Everything ».
For this mixtape, we have been
inspired by life. Watching the best sunset on a 6 hour bus ride across
Argentina falling in and out of love.
GBHM :
You'll be playing at the Midi Festival in the South of France on July
26th, which is known for discovering awesome new acts, such as Wu Lyf back in
2010 (and I have to confess, listening to you guys made their split up less
difficult for me). How come ?
M.A T.
:
We're playing MIDI festival because it's the best festival in the world
for us. The upside of the cutbacks they've had to make is that it's all going
to be back at Villa Noailles, where all the best years played like Girls, Holy
Shit, Animal Collective.. Also we'll be glad to see Panda Bear play, his music
fits so well with the setting. For us as a band and as friends it feels like a
beautiful summer memory we are all waiting to experience.
GBHM :
Do you have any other upcoming gigs in France (or anywhere else) ?
M.A T.
:
We are playing a show on Sunday for the Liverpool Biennial… that's all
we've got planned. And for Jonathan it's a homecoming to sing where his great
great great granddad from Belgium got a bunch of women pregnant.
He was the original bogan.
GBHM :
What are your plans for the next months ? Recording an album ?
M.A T.
:
At the end of August/ beginning of September we're going to record our
first album in a studio. Some of the songs were being made along side the ones
on « The Bogans of Life », but they didn't fit in; different times and different
vibes. The progression has been really holistic and we are all holding hands on
this one.
GBHM : As you have a French name, maybe a few last words in French for your
French audience ?
M.A T. : La musique de Ménage À
Trois vient d'un de ces lieux d'amour dont regorge Manchester. Au commencement,
il existait trois genres humains, pas seulement deux – homme et femme – comme aujourd'hui. Il en existait donc un troisième, qui mélangeait mes deux autres.
Son nom a survécu, mais le genre lui-même s'est éteint. À cette époque, on
distinguait un genre distinct de personne androgyne, pas simplement un mot,
bien que comme le genre, le mot soit aussi à la fois masculin et féminin ;
de nos jours, cependant, seul le mot demeure, et ce dernier est une insulte.
La dernière réponse est en français dans le texte !
MAUD & THOMAS