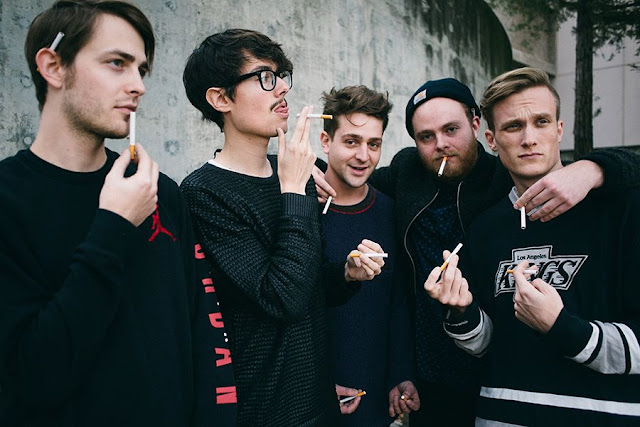 Lors de leur récent passage au Social Club et à l'occasion de la sortie française de leur album « How Do You Feel Now?« , GBH Music a rencontré le chanteur de Joywave Daniel ARMBRUSTER, aussi à l'aise sur scène qu'en interview!


GBHM : Rochester, NY …? Not NYC. Could you explain to European people how far is it from NYC ?
Daniel : Yeah, we are not from Brooklyn. I always tell people it is like 6 hours away, it's actually close to the lake of Ontario. It's two hours drive from Toronto.
GBHM : You did the opening for the Kooks, what was it like ?
Daniel : Awesome ! Such nice guys, we find that the bigger the band is we go out with, the nicer they are. It doesn't make sense. We always thought that the bigger they are, the bigger the egos are or something like that. The nicest encounter we have was with the Killers, we did two shows. Ronnie (Vannucci) the drummer just sat down with two of us and it was one of the only time we got nervous. The Kooks guys too, they are fantastic. Luke (Pritchard) got off stage in Chicago the night of the Manny Pacquiao vs. Floyd Mayweather, literally runs out and take us saying « Come on guys, lets go, we gonna watch the fight ! » and we just ran through the streets of Chicago, like little girls running after him and we just ran into a bar, buy a millon of Tequila shots and we talked about boxing. They are really fun to hang out with!
GBHM : You are the headline tonight (Editor's Note: May 21st @ Social Club) !
Daniel : Yes, this is our first headline here in Paris. We played here in the fall at a place called Les Etoiles.
GBHM : You did a show on Jimmy Kimmel live, you were all wearing matching suits. Are you planning to do that another time ?
Daniel : We don't frequently do that, tonight we are packing light. In the US the song was played on a rock radio, which is weird for us, and we were playing at Jimmy Kimmel and we figured that too many people will expect to see sort of masculine thing. So we wore all pink and the youtube comment section on it is incredible. It is just like full of hate and people were like « I thought I like this band until today when I saw this ! ». It's funny, you have to have fun with people expectations. It keeps it interesting for you. If no one else is entertained, at least I am.
GBHM : Your music is utterly linked to video releases. You launched a Tumblr in which people could grab a GIF for each song, was it for your artistic process or more for the fans ?
Daniel : You could tag any photos you wanted with each song of the EP, something that reminded you of a specific song and we aggregated what everyone posted. It was totally for the fans.
GBHM : For the video « Somebody new » it's centered on skateboards and a lots of VFX. And the video you added to the music track the sounds made by the skateboarders' falls !
Daniel : What are you talking about ? We are all fantastic skateboarders ! (laughs) It was all live action, no special effects ! And for the sounds I never thought about adding the sound effects to the music video.
Are you familiar with the band OK Go! ? We met them a few weeks ago at a Saturday Night Live party and they were there and we linked up in Houston. They were playing and they invited us, so I saw them. They basically did that, they took all their music videos and then adapted for live shows, and a theme behind each video and what was happening and projected It. They had a screen in front of them and behind them. So you can do depths tricks with the scene. We just didn't add the sounds of the skateboards yet. We'll get there.


GBHM : Why focusing on skateboards for the videoclip « Somebody new » ?
Daniel : What we have been doing with videos is just picking directors that we really really like. So Keith Schofield he did a video for Duck Sauce « The Big Bad Wolf ». Watch it or unwatch it. It's a video that we really liked and he agreed to do a new video, and it was an idea he had to do a kind of homage to the Tony Hawk pro skater videogame. And that was something we all played growing up. It was always exciting when the physics engineered a fail and the skateboard sticking through your body or your character get stuck in billboards. It was a fun way to do that with ourselves.
GBHM : In the video « Tongues », there is a guy shooting clothes to naked people, what does the NRA feels about that ?
Daniel : I don't know, we never got commentary from them. It was just like another fun thing, this guy Daniels has done a video for Chromeo that we really like (Editor's Note: « When the night falls ») and they came across with that idea and I was like that is absolutely insane. He did the Lil Jon and DJ Snake « Turn down for what » video and the guy in that video is the director. So as we were about to film ours, he is a crazy guy with crazy ideas.


GBHM : How was the video clip received in the US ?
Daniel : The nudity is edited out on youtube, it's there on Vimeo. We don't have really a music video channel in the US, I mean MTV doesn't play videos, Vevo plays videos. But there is no market for music videos it is all youtube.
GBHM : In your LP "How do you feel now?" (French release 29th June) there is only one featuring with Kopps …
Daniel : Oh yeah, Kopps are friends of ours from Rochester and they are extremely talented at graphical design and arts, they do all of our art work and we produce all of their songs so we have this kind of swap, and two of their members used to be in Joywave. They are featured on « Tongues » the « boom boom boom » are from their singer, Patricia. It's her voice assigned on a keyboard. We are like producing an EP for them right now.
GBHM : What are you currently listening to ?
Daniel : On the way here, I was listening to Neil Young « After the Gold Rush », pretty awesome. I listen to a couple of new vaccines songs, I heard them on Radio 1. I've been really into the new Drake record and the new Kendrick Lamar record, they are like my two favourites of the year so far.
GBHM : You're heading to the Reading & Leeds Festival in the UK, what bands would you like to see on stage ?
Daniel : I kind of want to see Limp Bizkit because I have no idea what that's like but I really want to find out. We got move to a different stage, but initially we were the first band on Limp Bizkit stage and I was gonna finish playing and just sit down even if he came out like twelve hours later I do hope to catch that.
Pour nos lecteurs non anglophones, voici la version en VF
GBHM : Rochester, New York …? Mais pas New York City. Pourrais-tu expliquer au public européen où cela se situe-t-il exactement ?
Daniel : Ouais, nous ne sommes pas de Brooklyn. Je dis toujours aux gens qu'on est à 6 heures de New York, c'est en fait assez près du lac Ontario. A deux heures en voiture de Toronto.
GBHM : Vous avez fait la première partie des Kooks, ton retour d'expérience ?
Daniel : Génial ! Des types vraiment sympas, on pense que plus le groupe avec lequel on se produit est important, plus ils sont sympas. Ça n'a pas vraiment de sens. On pense toujours que plus le groupe est important, plus leurs egos vont être de même. La plus chouette des rencontres s'est déroulée avec les Killers, on a fait deux concerts. Ronnie (Vannucci) le batteur s'est juste assis avec deux d'entre nous et ce fut la seule fois où nous avons été stressés. Les mecs des Kooks aussi, ils sont géniaux. Luke (Pritchard) est sorti de scène à Chicago la nuit du combat de Manny Pacquiao contre Flyod Mayweather, il est littéralement sorti de scène et nous a emmené en disant « Allez, les mecs, on y va, on va voir le match ! » et on l'a juste suivi dans les rues de Chicago, comme des petites filles courant derrière lui, puis nous sommes rentrés dans un bar, on a acheté des milliers de shots de Tequila et parlé de boxe. C'est vraiment des mecs funs !
GBHM : Ce soir soir vous êtes la tête d'affiche (NDLR: le 21 Mai dernier au Social Club)…
Daniel : Oui, c'est notre première fois en tant que tête d'affiche à Paris. On a joué ici à l'automne dernier dans un lieu appelé les Etoiles.
GBHM : Vous avez participé à un show de Jimmy Kimmel dans lequel vous portiez tous le même costume. Vous pensez refaire la même chose pour un concert à venir ?
Daniel : On ne le fait pas souvent, on voyage léger, pas ce soir donc. Aux USA, on passait sur une radio rock, ce qui est assez bizarre pour nous, et nous jouions live pour l'émission de Jimmy Kimmel, et on s'est dit que trop de monde allait attendre de nous quelque chose de « masculin ». Alors on a tous porté du rose et les commentaires sur Youtube ont été surréalistes. Juste des trucs plein de haine, du genre « Je pensais que j'aimais ce groupe jusqu'à aujourd'hui et puis j'ai vu ça ! ». C'est assez drôle, tu dois jouer avec les attentes des gens. Si personne ne s'amuse, au moins moi je m'amuse.
GBHM : Votre musique va de pair avec les vidéos. Vous avez lancé un Tumblr sur lequel les gens pouvaient poster des GIF pour illustrer chaque chanson, le but était de vous aider dans votre processus créatif ou de capter plus de fans ?
Daniel : Tu pouvais publier n'importe quelle photo pour illustrer chaque chanson de l'EP, quelque chose qui te rappelait une chanson spécifique et on a regroupé tous ce que les gens avaient posté. C'était fait totalement pour les fans.
GBHM : Pour la video « Somebody new », le skate est l'élément central et il y a aussi beaucoup d'effets spéciaux. Et vous avez ajouté les sons des chutes de skate.
Daniel : Mais de quoi tu parles ? On est des super skateurs ! (rires) Que de l'action live, aucun effet spécial ! Et pour le bruitage, je n'avais pas pensé à ajouter les sons de skate à la vidéo.
Tu connais le groupe OK Go! ? On les a rencontrés il y a quelques semaines dans une teuf du Saturday Night Live et ensuite on s'est retrouvé à Houston. Ils jouaient là bas et ils nous ont invités. Eux, ils ont fait ça, ils ont pris tous leurs vidéo clips et les ont adaptés pour le live, et un thème pour chaque vidéo et le projetaient durant le show. Ils avaient un écran face à eux et derrière eux. Et ils pouvaient jouer sur la profondeur depuis la scène. Nous n'avons pas encore ajouté les sons de la vidéo à notre chanson encore. On le fera.
GBHM : Et pourquoi le skate pour le clip « Somebody new » ?
Daniel : Pour les vidéos, ce qu'on a fait c'est juste choisir des réalisateurs qu'on aime vraiment. Et Keith Schofield a fait une vidéo pour Duck Sauce « The Big Bad Wolf ». Regarde-la ou ne le regarde pas. C'est une vidéo qu'on a beaucoup aimé et il a été d'accord pour en faire une nouvelle, et c'est l'idée qu'il a eu de faire un truc en hommage au jeu vidéo de skate Tony Hawk. Le skate, c'est un truc avec lequel on a tous grandi. C'était excitant de jouer avec les lois de la physique quand après une chute le skate transperçait le corps de ton personnage ou que le personnage atterrissait dans les panneaux publicitaires. C'était drôle de faire ça sur nous-mêmes.
GBHM : Dans la vidéo « Tongues » il y a un mec qui tire sur des gens complètement nus avec comme munitions des vêtements, qu'en pense la NRA ?
Daniel : Je ne sais pas, on n'a jamais reçu de commentaire de leur part. C'était encore un truc fun, ce type Daniels a fait une vidéo pour Chromeo que nous aimions vraiment. (NDLR « When the night falls ») et on a trouvé cette idée et on a pensé que c'était totalement barré. Il a fait la vidéo de Lil Jon et DJ Snake « Turn down for what » et le type de la vidéo c'est le réalisateur. C'est un mec fou avec des idées complètement folles.
GBHM : Comment la vidéo a-t-elle été reçue ?
Daniel : La vidéo est sur Viméo mais pas sur youtube. Nous n'avons pas réellement de chaîne pour nos clips aux US, je veux dire que MTV ne joue pas nos vidéos, Vevo si. Mais il n'y a pas de réel marché pour les vidéos, tout est sur Youtube.
GBHM : Dans votre LP « How do you feel now ? » ( Qui sort ce 29 juin en France) il y a un featuring avec Kopps…
Daniel : Oh yeah, Kopps sont des amis à nous de Rochester et ils sont super doués pour tout ce qui est artistique, ils ont fait toutes nos illustrations et nous produisons toutes leurs chansons, on a cet espèce de troc et deux de leurs membres faisaient partie de Joywave en fait. Kopps sont en featuring sur « Tongues » et les « boom boom boom » sont l'œuvre de la chanteuse, Patricia. C'est sa voix enregistrée sur un synthé. On est en train de produire leur EP en ce moment.
GBHM : Vous écoutez quoi en ce moment ?
Daniel : En venant ici, on a écouté Neil Young "After the Gold Rush", plutôt génial. J'ai écouté aussi quelques chansons des Vaccines, je les ai entendus sur Radio 1 (BBC). Je me suis mis à écouter à fond l'album de Drake et le nouveau Kendrick Lamar, ce sont mes deux albums favoris de l'année pour l'instant.
GBHM : Vous jouez au Reading et Leeds Festival en Angleterre, Quels groupes aimeriez-bous voir sur scène en live ?
Daniel : J'adorerais voir Limp Bizkit car je n'ai aucune idée de ce que ça doit donner et j'aimerais vraiment les découvrir. On nous a changé de scène, mais au début nous étions le premier groupe à jouer sur la scène de Limp Bizkit et je pensais m'asseoir sur le côté de la scène après avoir joué et attendre, même si le show venait 12 heures plus tard. J'espère pouvoir les voir.
PROPOS RECUEILLIS, RETRANSCRITS ET TRADUITS PAR FRED
CREDIT PHOTO: DAVID O'DONOHUE